I like words. Obviously. :) My friends like words, too. We've had many conversations over the years about them, from lamenting the overuse of the word "like" to praising the proper usage of the word "literally". Often we're in agreement, but one argument which we've never been able to lay to rest is whether carbonated soft drinks should be called "soda" or "pop".
I am firmly in the soda category, as are some of my friends. And the ones who are not in the soda category are quite insistent that the "correct" word is pop. I would have to disagree. And they disagree with me.
There is no consensus on this, and there appears to be no rational argument. How do you argue this?
"It's pop."
"Why?"
"Because it is."
"No, it's soda."
"Now you're just being silly."
I did some digging on the subject, which didn't help me much. History seems to advocate that
both words are perfectly valid
. Soda works because soft drinks are made with soda-water, which create the fizz. Pop was introduced by Robert Southey in 1812 "because 'pop goes the cork' when it is drawn."
One person has apparently become so obsessed with it that they have created a
Pop vs. Soda Controversy
website intended to plot the regional variations in the use of the terms "Pop" and "Soda" to describe carbonated soft drinks.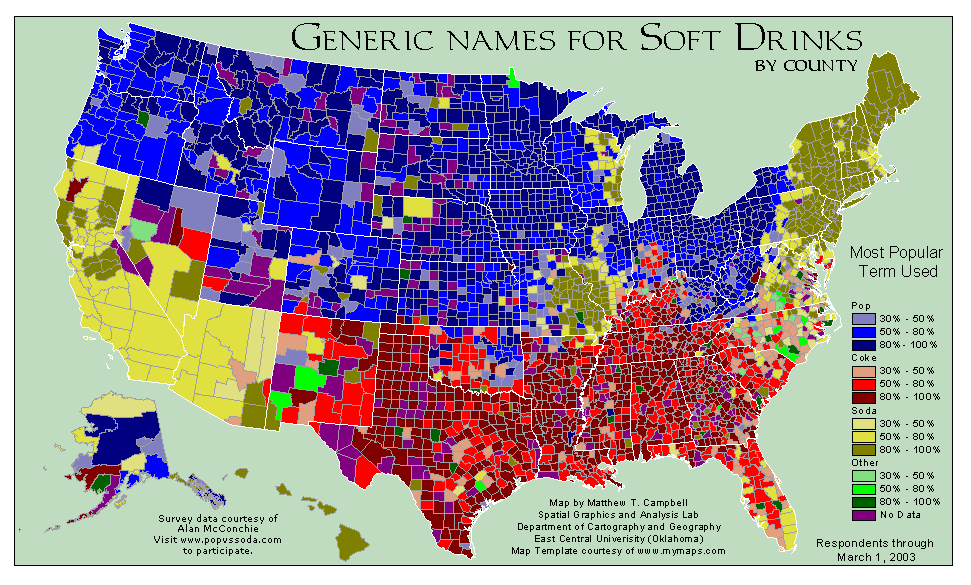 The map throws a whole new monkey wrench into the equation with the additional term "coke". As in:
"I'd like a coke."
"What flavor?"
"Mountain Dew."
Now who is being silly?
The map does seem to show that soda is typical on the east and west coasts, pop is popular in the north, while coke is the word to use in the south. The
raw statistics
show what other names people use to refer to soft drinks, such as fizzy drinks or lolly water. Though I may feel a little outnumbered here in the Midwest, I will continue to say soda, not pop and certainly not coke.
Soda or pop: Which do you prefer?